Raja Laut in indonesian language means "King of the Sea". In this case we refer to a fish, a special one, indeeed. The Coelacanth were believed to have been extinct since the end of the Cretaceous period.
The Coelacanth or Raja Laut
There are two different coelacanth species: latimeria chalumnae and latimeria menadoensis.
Latimeria chalumnae was discovered in South Africa in 1938, when Mayore Courtenay Latimer working for East London Museum, found a coelacanth between some fishes that were caught from a fishing boat on the river Chalumna.
Latimeria menadoensis, was discovered more recently, in 1997 in Indonesia, when two tourists, spouses Erdmann, discovered in a market on the island of Manado Tua what seemed a Gombessa fish, a species they called "The Sea King". Then with some research on DNA, was discovered that the species is also different from Latimeria chalumnae and was called Latimeria menadoensis.
The coelacanth is now living in the Indian Ocean, including the Comores and Madascar, South Africa and Indonesia. It 'a big fish and can be up to two meters long and 80 kg in weight. Live on average 60 years, prefers to swim deep and hunt at night. It feeds on eels, stingrays, small sharks and squid. Swimming is particular, as the fins move in pairs, or the two in front, pectoral fins or the rear ones, pelvis.
We decided to call our Resort RAJA LAUT to don't forget the great privilege we enjoy to dive daily in this SPECIAL sea.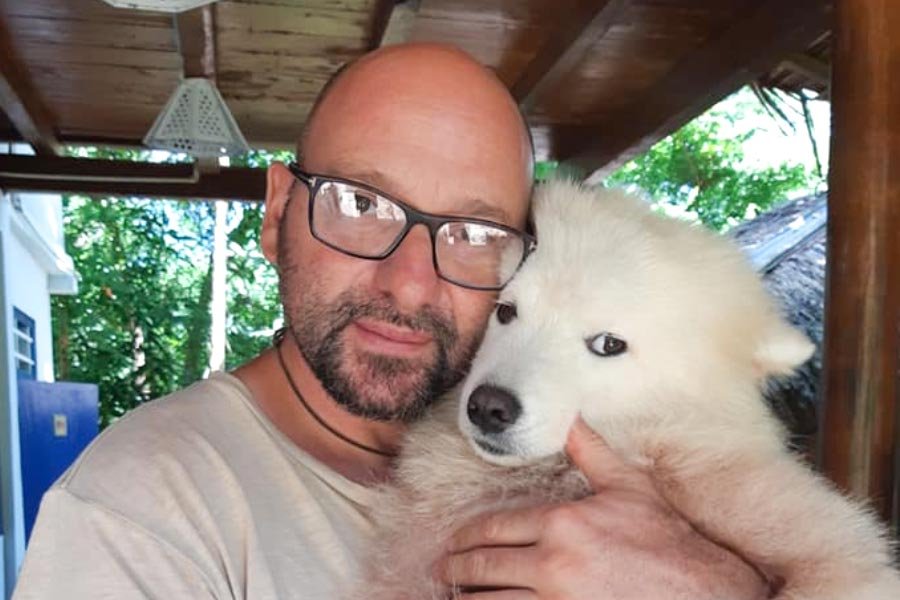 Roberto
Instructor / Owner
Roberto is practising diving for over 30 years & has a degree in Geology and a PhD in Marine Ecology at the University of Milan.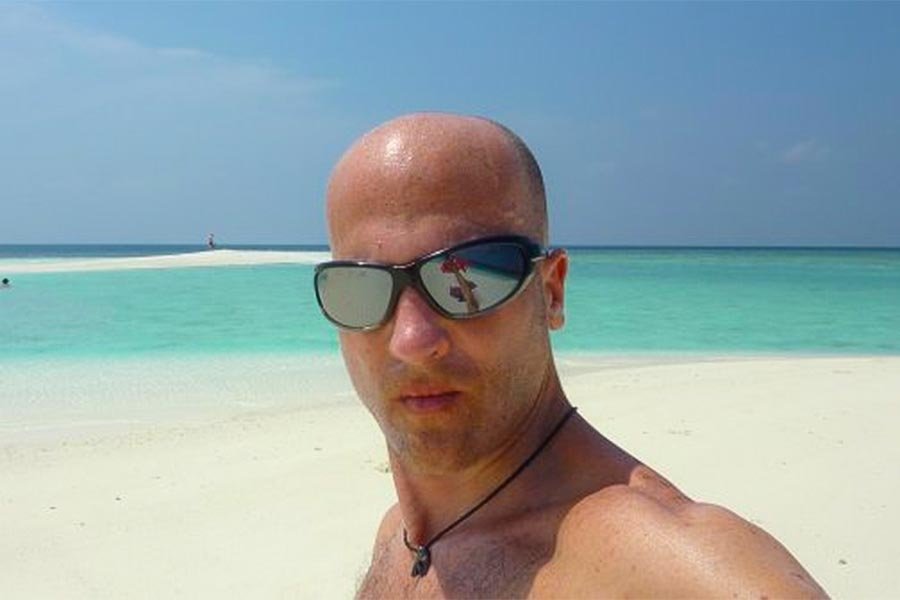 Amedeo
Instructor / Owner
Amedeo is a passionate diver.PADI Instructor, arrived once for holiday on this small island, he decided to stop here and begin a new adventure
Seyla
Dive Guide / Guest Relation
Our beautiful & attentive Seyla is a good dive guide with many other skills. She is looking after the needs of our guests from the welcome briefing to the checkout. 
Novri
Maintenance / Logistic
Nofri, who has been with us since the beginning, is in charge of the Resort maintenance, organising transfers from and to the island and also a good diving boat captain.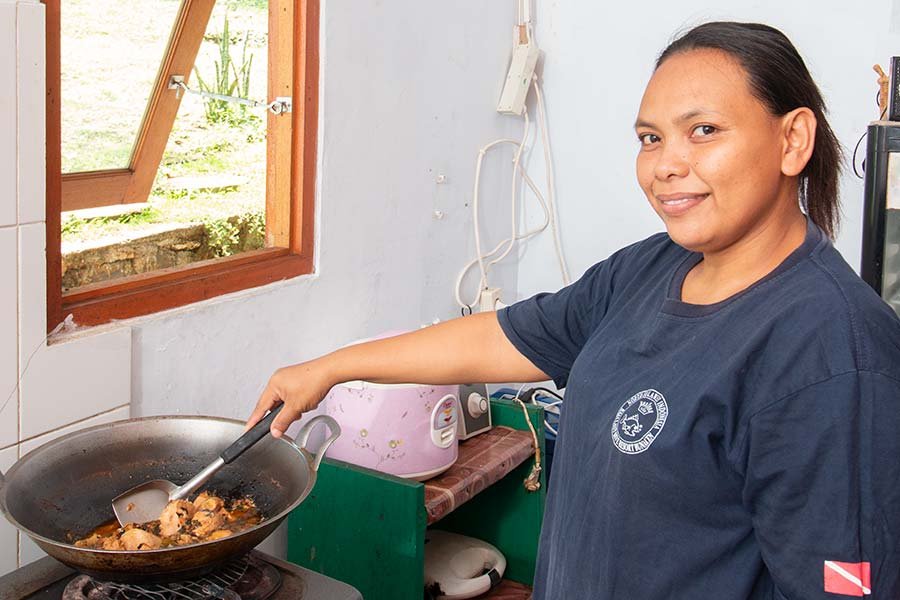 Jessy
Cook
Jessy is a good and expert cook, she knows how to prepare excellent traditional Indonesian dishes as well as Italian delicacies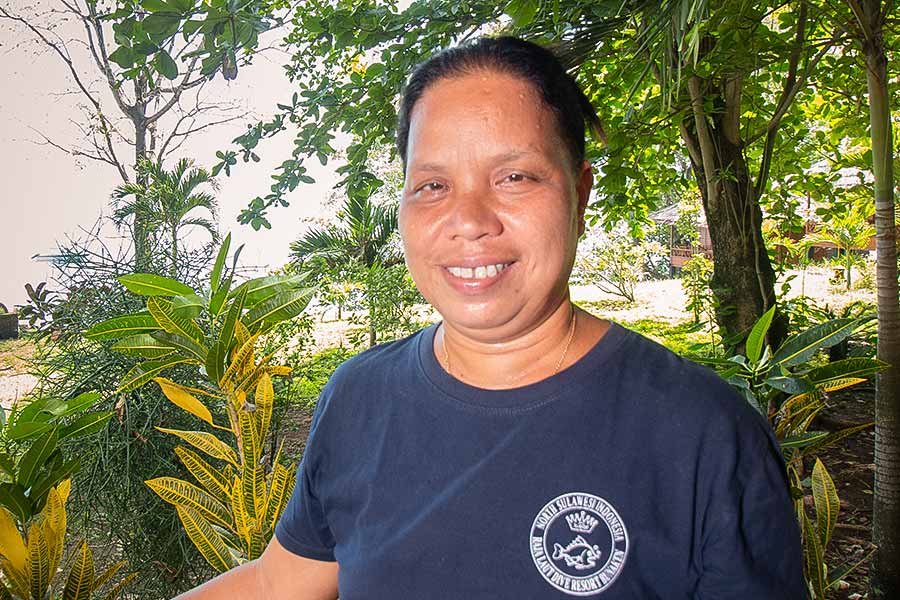 Ida
Housekeeping
Ida is our senior and loyal housemaid. She also cooperates with the kitchen and she's very good at preparing excellent desserts
The Location in Bunaken
The island of Bunaken apart rare exceptions is surrounded by mangroves, which for good reason, can not be cut. We are one of the few stretches of coast where the green tape stops naturally. From a ground raised our eyes can range from Manado at the northern tip of Sulawesi.
We have easy access to the reef (Timur) in front of Raja Laut: This reef is an excellent spot for snorkeling and scuba diving. We are just a few hundred meters from the village of Bunaken, this means being able to easily immerse in local culture and easy access with the public boat service that landed just at the beach in the village.
How to reach us
To reach Manado Sam Ratulangi International Airport (MDC) the shortest and more comfortable way is to flight with Singapore Airlines (from main European cities), connection in Singapore with Silkair flight with final destiantion Manado. Checked baggage will be collected in Manado (up to 30kg for diving equipment provided). Total flight time:15/16 hours. Cost: from 800 € to 1400€ round trip. From the Airport of Manado to the harbour, about 30/45 minutes by taxi. Boat to Bunaken: crossing time about 45 minutes. If you wish, Raja Laut will handle the transfer from Airport.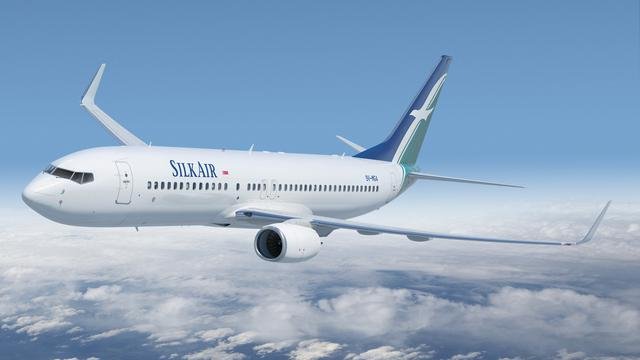 Other possibilities (cheaper but longer travel time): flights from main European cities to Jakarta or Bali with various carriers: Emirates via Dubai, Qatar by DHOA, TURKISH via Istanbul, Lufhansa via FRANKFURT, KLM via Amsterdam.
Manado is then reached with domestic flights (LION AIR, BATIK AIR, GARUDA INDONESIA, CITILINK) from Jakarta and Bali.
The online purchase of domestic flights by local companies is sometime NOT possible (unless you use an Indonesian or Malaysian credit card). Is possible instead to use online Travel Agents like www.ticketindonesia.info, www.traveloka.com and www.nusatrip.com.
Another possibility is to reach Bangkok or Kuala Lumpur and continue to Manado via Makassar with AIR ASIA.
GARUDA INDONESIA just introduced a new flight from Davao(Philippines) to Manado.